It's only a few minutes after 8 a.m. and the music is blaring at South Island Crossfit.  A half-dozen or so people are working out, but unlike a lot of gyms, these people are working out together, not just at the same time.
Inside a section of the gym at the South Whidbey Community Center, CrossFit members are in the midst of the day's first session.  Socially distanced in nine-foot squares, they're industriously pulling at their rowing machines or riding a bike or ski machine.  A clock on the wall is counting down the time left in round 4 of the morning's aerobics session.  After burning 20 calories, it's out the door for a 200-meter run through the community center.  This is just part of the hour-long workout.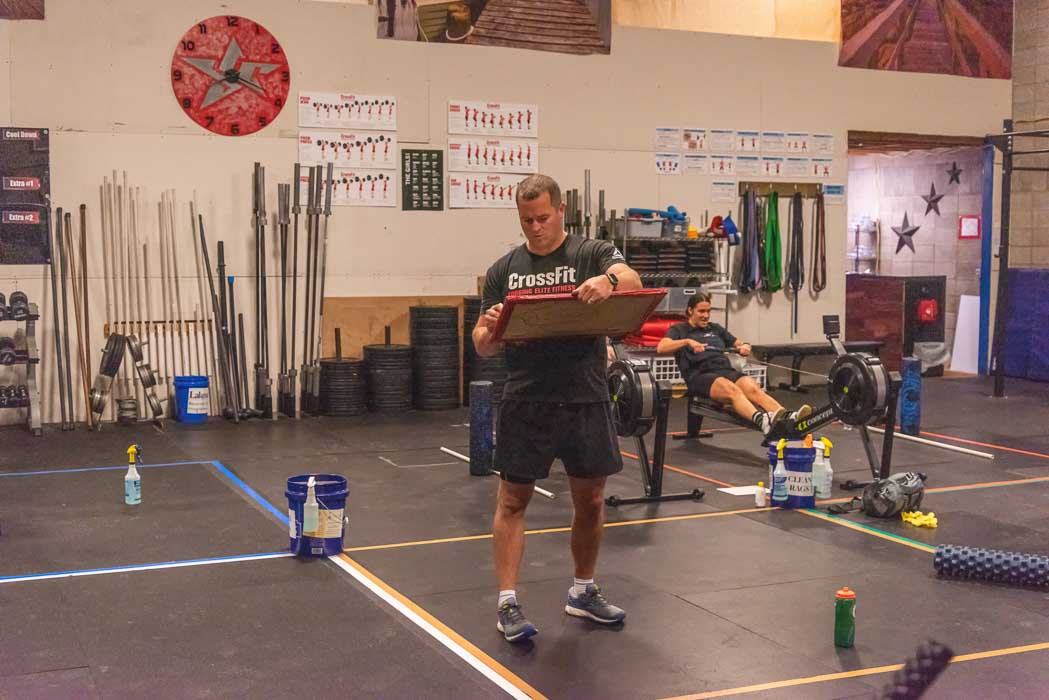 Coach Daniel tracking workouts.
In the center of this is Daniel Jensen.  Coach Daniel is busy writing scores down on a large board he's carrying with him.  It's this working simultaneously that's Crossfit's secret.  "Most people fail at keeping their fitness routine," he explains, adding that by coming to Crossfit, "You're going to be coached (plus) you know you have to be somewhere at a certain time."
Just because people are working out together does not mean that they are all doing things at the same level.  In this morning's group were people of varying ages and athletic abilities.  Coach Daniel says he creates workouts for those in good shape, but then, "scales it down for everybody."  Additionally, because many of those working out are older and might have injuries or ongoing physical issues, he works to modify workouts accordingly.
They also do different workouts each day, so people coming to their sessions get something new with each visit.  He explains that the changes keep things interesting and that, "you need variety to keep yourself working out."
Clearing the fog with a run.
Sanitizer and social distancing.
The variety attracts a lot of first responders.  But classes are also filled with grandmothers, teens, and people just beginning their fitness journey.  A sign at the entrance reminds everyone to, "Be Coachable" and "Build Community."
And, the classes do become a community.  People get to know each other and sometimes even have their favorite squares on the workout floor and people notice when other regulars aren't in attendance.
Crossfit is not filled with the machines one finds at the chain membership gyms.  When weights are used, Coach Daniel directs them to the free weights.  He finds them superior for exercise because people are working on real-life, functional movements and what he calls, "balance throughout the body."  He says that happens when someone, "looks the same," whether lifting a PVC pipe or a bar with weights.
Crossfit re-opened under strict social rules shortly after Island County entered phase two of the state's COVID-19 re-opening plan.  "We follow all the guidelines" Coach Daniel says, and then some.  Instead of six-foot separation, the workout floor separates people by about nine feet.  Rags and sanitizer are plentiful, and people must clean equipment after they use it.
Coach Daniel looks at these sessions as being more than just an exercise class, explaining he hopes, "this is a bright spot in their life," and one of the more interesting times in someone's day.  He says, "the most important part of coaching is caring for people," and that he hopes that when they're done for the day that mentally they, "leave in a better place than they started."